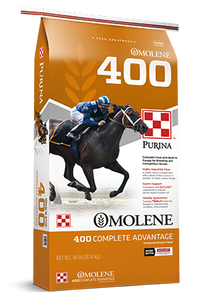 Highly Digestible Fiber
A calorie dense complete feed with a blend of fiber sources to partially or totally replace forage
Gastric Support 
Formulated with Outlast® Supplement to support gastric health and proper pH
Healthy Appearance
Contains Purina® Amplify® high fat nugget to maintain body condition shine and bloom
Low Dust Ingredients
Designed for horses with respiratory or dietary sensitivity, this formula contains no barley, oats, or alfalfa
Purina® Amplify® High-Fat Nugget
A proprietary blend of vegetable oils, flaxseed, and rice bran to support weight gain, endurance, shine, and bloom
Loose Beet Pulp Shreds
An excellent source of fermentable fiber for sustained energy
Complete Feed
Roughage built-in to partially or completely replace hay or pasture, this formula provides 100% of the required vitamins and minerals when fed as directed.*

*When fed as directed, with free-choice or added salt, based on Nutrient Requirements of Horses. Sixth Revised Edition – 2007, published by the National Research Council.
Year-Round Quality
Unique soy oil-molasses blend with lower sugar and higher fat than traditional cane molasses helps decrease bricking in winter and drying out in summer
Proven Palatability
Countless trials at the Purina Animal Nutrition Center and in the field verify exceptional palatability to support consistent nutrient intake, even in the pickiest eaters
Ingredient Integrity
Only ingredients that meet our stringent quality criteria make it into our mills and feed bags. Any shipment that doesn't meet or exceed our standards is turned away.