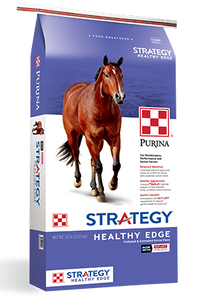 Purina® Amplify® High-Fat Nugget
A proprietary blend of vegetable oils, flax seed and rice bran for performance, shine & bloom
Controlled Starch and Sugar with Higher Fat and Fiber
For horses with moderate calorie needs, it helps maintain optimal body condition.
For horses sensitive to soluble carbohydrates, it provides controlled starch and sugars.
Protein that Performs
High quality sources chosen for their optimal amino acid profiles support muscle tone and overall performance in a moderate protein formula.
Highly Digestible Fibers
Multiple fiber sources including beet pulp provide slow-releasing fuel for sustained performance.
Purina® Outlast® Supplement Added to Support Proper Gastric pH
Outlast® supplement contains a unique blend of ingredients that are designed to support gastric balance, giving you and your horse the confidence to perform.