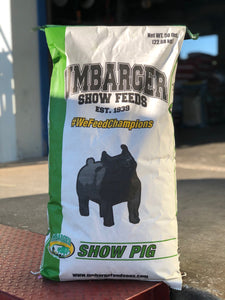 Unique protein and amino acid profile will add muscle shape and bloom to your show pigs while maintaining an optimal growth rate. The addition of barley and steam rolled oats help develop a full and fresh look and a smooth cover needed to win at the highest levels.
Meal form with special flavor will stimulate feed intake.
Feed to show pigs weighing at least 80# and can be fed all the way to show day.
The design of this product with multiple protein and energy sources will add muscle shape while keeping structural soundness a top priority.
Spot Light has a simple feeding concept where top-dresses are not required. Spot Light is formulated and proven to put winning results in every bag.